Folks are always asking about velocity versus barrel length, so I thought I would run a few tests today. Ran seven different off-the-shelf ammo loads through my M6A2S (stretch). Not surprisingly, both Tula rounds had the lowest and least consistent velocities vs. bullet weight. Shot some Tula full auto last year, and the cycle rate was predictably low.
What was surprising was how consistent the cheap WPA was in velocity. I didn't check how well it groups compared to the others, but velocities were VERY consistent. And it was the least expensive ammo of the bunch. American Eagle 55 grain was the most consistent, but it was also the only FMJ 55 Gn. I tested.
As usual, no failures of any kind.
RIFLE: M6A2S, MRE
BARREL LENGTH: 14.7"
TEMPERATURE: 65 Degrees F
CHRONOGRAPH: Competition Electronics ProChrono Digital
DISTANCE TO CHRONOGRAPH FROM MUZZLE: 15 feet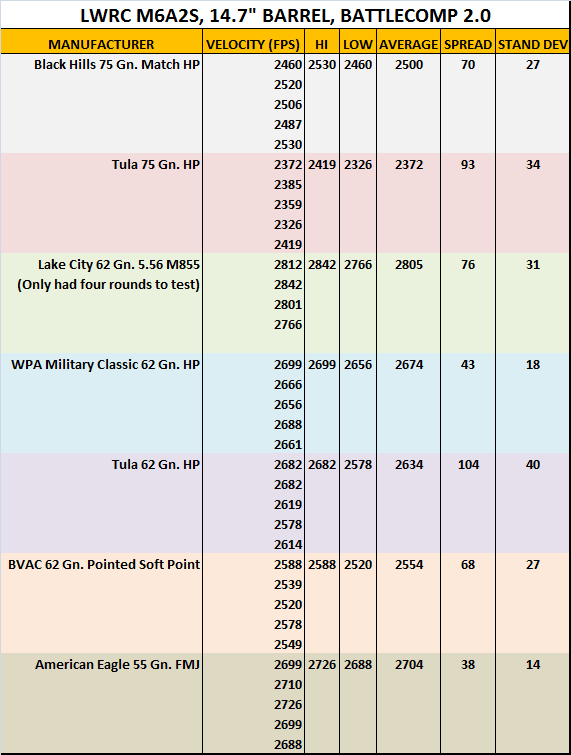 NOTE ON Competition Electronics ProChrono Digital:
Instead of using the v-bars and light shields on this chronograph, I just put translucent packing tape over the sensors. This acts as a diffuser and enables measurements under a very wide variety of lighthing conditions. Can measure anything, even BBs, which are notoriously hard to register on a chronograph.